Roll top dry bags, in general, are completely waterproof and designed to keep your stuff dry while you're kayaking, paddle boarding, on the boat, or any other water sport in between. But do they even work and if so, is there any leakage? 
We are going to find out. In this article, I review and test Amazon's current Best Seller dry bag, Earth Pak.
Features 
You can get this bag anywhere between 10 to 55 Liters. I got the 20 liters since I thought it was all I needed for my day trips. And unless I was filming that day, a 20-liter bag is all I need between my wife and me. 
The 10 and 20-liter comes with a removable strap while the 30, 40, and 55-liter has built-in dual backpack straps. 
Now if you don't like it in orange like mine, you can get it in other colors. And as a side note, with the purchase, you also get an IPX8-certified waterproof phone case that actually works quite well.
Build quality 
Initially, I was skeptical, because the large bag was impressively affordable at only $22. But that skepticism was erased once I felt the build and tested its waterproof capabilities.
It's made in the USA and constructed of entirely waterproof 500D PVC. Along with the included 5-year warranty, this material seems tough and able to last a very long time. 
Now the low cost and decent build is great and all but does this dry bag actually do what it's supposed to, and keep your things inside completely dry? Well, I ran it through a few tests which you'll see later on.
How To Close & Seal A Dry Bag
Add items to the bag
Remove excess air from the bag
Fold tightly from the top 3 times minimum
Attach the buckles folding the back inward
Water Proof Testing 
I gave this dry bag 3 separate water tests. Rain, floating in a river if it falls off and submerging it 3 feet underwater for a few minutes. But keep in mind, that these tests are after tightly folding the top at the recommended 4 times. 
Rain Test: Water didn't penetrate the main compartment 
Water Floating Test: Water didn't penetrate the main compartment 
Water Submerge Test: A little water penetrated and and went into the bag. Didn't seem like it was enough to damage electronics and certainly not enough to for clothes.
I was pleasantly surprised with this affordable dry bag as it kept everything dry without any leakage! This gave me the green light to bring some of my sensitive electronics on the trip without worrying if it falls out of the kayak, or we get caught in a large storm. 
Convenience
A few other side notes worth mentioning about this particular dry bag and they're all related to convenience and ease of use. First of all, the shoulder strap makes it easy to transport but even the buckled top provides a nice carry handle.
Once you're done and ready to store it away, drybags in general are extremely space efficient. Rolled up, you can fit them almost anywhere. I have 2 separate 20L Earth Pak drybags and both take up hardly any space in my storage container.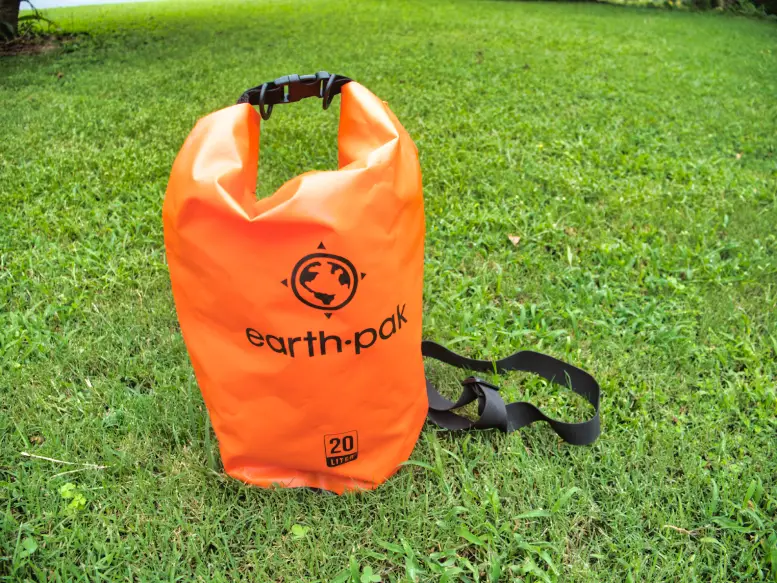 To Sum It Up
So if you're looking for something simple as a roll-up at a lower than average price, the Earth Pak is an excellent choice. I use it for my kayak trips very often. But if you need a dry bag for a hiking trip in case you're searching for swimming holes or the fear of getting stuck in the rain on a hike, the 30, 40, 0r 55 litter is better suited due to the backpack straps!
If you're looking for over-ear headphones, see our top picks here.
See the top made-in-USA sunglasses here.
Need a modern outdoor coffee table? See the top picks here.
Need an alarm clock? See the top choices here.