Of the 3 kayaks at my home, today I'll be reviewing the Pelican Blitz 100X.
Features
To dive right in, this is a single-person sit-on-top kayak that frees your legs allowing a more relaxing time. It has a max weight limit of 300 pounds, yet relatively light weighing only 44 pounds. The length is 9 feet and six inches with a 32-inch width.
On the floor of the boat, you'll find scupper holes which are small-sized holes that allow water to escape the floorboard so that you don't sink, which is very important!
Both the front and the back provide storage space. However, I wasn't a huge fan of the front rubber compartment so I removed it. It also comes with an EXOPOD 17L hard shell storage compartment designed to fit snug in the rear section. While it really is designed quite well, I prefer to use that space for my Drybag or cooler for our kayaking trip.
A few other key features are the center consoles dual cup holders, rear bungee cords to secure your items, incorporated foldable seat, the 4 separate foot pegs depending on your leg length or preference, carry handles on each side, and dual fishing rod holders.
Performance
The overall performance of the Pelican Blitz is extremely good. It has great tracking, remains very stable, is able to withstand large boat waves if you're kayaking in a lake, turns are easy and smooth, and the overall maneuverability is very impressive.
Build Quality
Not only is its water performance reliable, but it has excellent build quality, as well. It's constructed of multi-layer polyethylene with advanced resin boosting its overall longevity. The material also provides impact-resistant qualities which is important if you're hitting rocks along rapids. Going hand and hand with its performance, you'll also appreciate the Twin-arched multi-chine hull.
Primary Downside
So we talked a lot about the positive attributes of this kayak, but What about the negatives? Other than the weird rubber pad at the front that I ended up removing, I honestly haven't come across anything to complain about. Unlike my Field & Stream kayak, the Pelican Blitz 100X doesn't hold any water. Yet, it's worth noting that this one is also more expensive.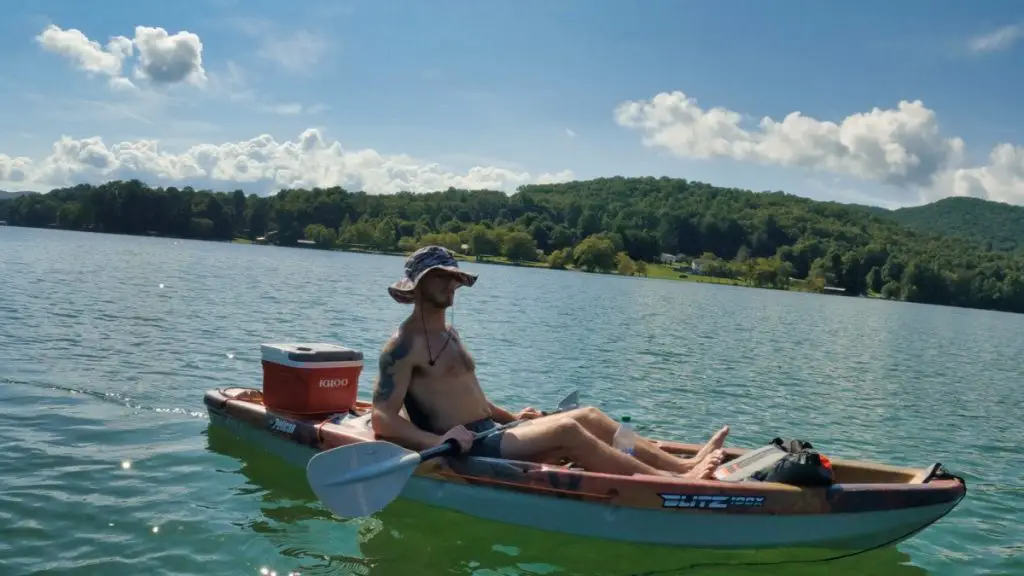 Overall | Pelican Blitz 100X
Overall, I believe the Pelican Blitz 100X is an outstanding kayak for recreation, fishing, on a lake with heavy boat waves, and even some rapids. Not only do I really enjoy it, but it has pretty high reviews amongst customers, as well. I highly recommend it, and thank you so much for reading!
If you're looking for an SUP under $300, see why I chose mine here.
If you're looking for over-ear headphones, see our top picks here.
See the top made-in-USA sunglasses here.
Need a modern outdoor coffee table? See the top picks here.
Need an alarm clock? See the top choices here.