In this article, I'm going to review the Roc Inflatable Paddle Board, explain why I chose it, and show why I believe it's the best inflatable SUP paddle board under $300
Portability 
First off, this paddle board is very convenient and portable as every component fits nicely in this medium sized bag. You can easily pack it in your trunk, backseat, or front seat without any issues. The size of the packed up sup set is roughly 3 feet long and 17 inches wide.
Set up
Once your at the destination, you can fold out the paddle board and use the original pump coming with the purchase, or make your life easier and get the serene life digital air pump that's powered by your car and pumps it automatically. Thats sold separately.
They recommend pumping it anywhere between 12-15psi. So I generally aim somewhere in the middle around 13.5 psi. Once fully pumped, secure the valve, attach the fin and lock it, connect the included paddle paddle, and your off. 
Features 
You'll be amazed by how large the fully pumped board becomes. And even though it feels like a non inflatable hard board, it's surprising light weighing about 17.5 pounds in which they claim is about 20% lighter than average. It also provides a lot of room coming in at 10 feet long and 33 inches wide with a weight limit up to 350 pounds. The convenient handle makes it easy to carry, as well. 
But I must say that when me and my wife both got on the board, it didn't have any issues carry us but paddling was a bit difficult. So if you want to add another person you're probably better of with an extra paddle. Another thing worth mentioning is the center of the board is very rugged providing a non-slip deck. Even when the deck gets soaked it doesn't feel slippery. 
Performance 
If you've never been on a standup paddle board, the very first thing many people, including myself, want to do is stand side ways like a surf board. After struggling and falling a few times, I learned the hard way that standing forward was a hundred times easier. It was also than that I realized how impressively stable and smooth the roc road throughout the current. Even through a wavy lake it holds up without any issues. 
I've ridden this board in various circumstances and it's performance always exceeds it's price. With its dual side fins and large center fin, the overall maneuverability and steering is also quite impressive for the affordable cost. If you want to turn you can turn, and it doesn't over correct while rowing when going forward. While the speed obviously depends on how hard and quickly you row, I'm able to keep pace with my kayaking buddies with this board.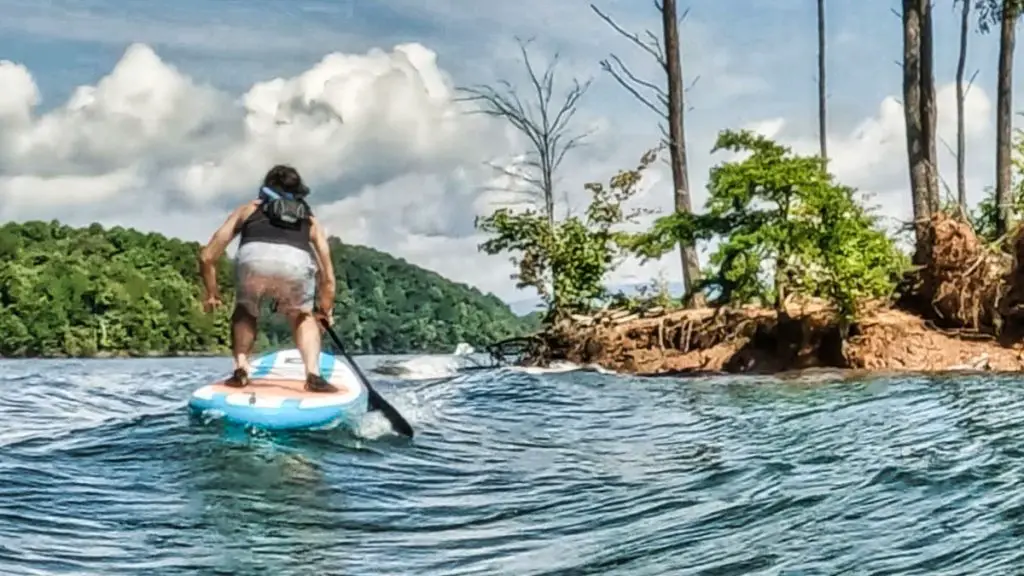 Build quality 
And finally, the build quality. The roc is made with lightweight military grade quad-core PVC material. Now I've only had this board for about a year and a half but in that time I used it and enormous amount and never had any issues. And for peace of mind at the recording of this video it comes with a 1-year manufacturer's warranty. 
Now while I can personally confirm the tough build quality of this board, I can also say that the paddle coming with the purchase isn't as robust. It's usable which is why I still have it, but nothing great. 
Packing Up
When your done for the day, packing up it quite easy. Simple remove the center fin, open the air valve lock, push and turn the valve, wait 5-10 seconds for some of the air the escape, and slowly roll it up like a sleeping bag while pushing the remaining air out. Undo the paddle, put everything in the bag, zip it up, and you're done. 
Overview | Best Inflatable SUP Paddle Board Under $300
Considering the tough build quality, reliable performance, stable ride, easy portability, and spacious size, the roc SUP is in my opinion best inflatable standup paddle board for the affordable. At the time of this video you can get it for $300. But can you paddle board if you can't swim? Find out here.
If you're looking for over-ear headphones, see our top picks here.
See the top made-in-USA sunglasses here.
Need a modern outdoor coffee table? See the top picks here.
Need an alarm clock? See the top choices here.