What should you get, a Kayak or SUP? In this article, we're going to compare the 6 primary differences in hopes that it helps you in your decision of which of the two you should get.
Kayaking you're sitting whereas paddle boarding you're standing up.
You can also sit on a SUP but it doesn't have a seat like a kayak. Therefore, kayaking is more comfortable since you're sitting. But some people say SUP is more active and adventurous than standing up. However, many have issues with balance, particularly taller people.
Speed. Kayaking you have dual blades on each side of the paddle whereas an SUP only has one blade.
Considering you can row on each side of your paddle while kayaking, it's easier to go faster and burns less energy than paddle boarding. But if you want to get a workout while having fun, not only do you need to row more with an SUP, but balancing the entire time also gives you a mini workout after a while.
Since most reliable SUPs are inflatable, they're much easier to transport.
Most reliable kayaks are made of plastic and are non-inflatable. Paddle boards are the exact opposite where most reliable SUPs are inflatable. Contrary to popular belief, they're more impact resistant, stable, durable, and last longer than standard epoxy hard paddle boards. On top of that, they're more affordable.
So because of the much higher chances, you're going to get an inflatable SUP and a standard plastic kayak, in most cases, transporting an SUP is going to be drastically easier than transporting a kayak.
For example, before getting my kayak, my car didn't have a roof rack. I had to purchase and set up a stand-alone roof rack, and then get the separate kayak racks. After that, I was able to load my kayaks but loading them is time-consuming in it itself. Where on the other hand, it takes seconds to throw my SUP case in the trunk or backseat.
But if you're leaning more towards a kayak rather than an SUP but don't want the transportation hassle of a standard non-inflatable, you can always look into an inflatable kayak. However, it's not something I personally recommend if you want to kayak anything serious.
Kayaks are more suited for fishing
If you want to fish, you're better off with a kayak for a few reasons. One, kayaks have a lot more bungee space to hold fishing gear Where SUPs have a lot of room, but can't really secure your items like a kayak. Most of them have fishing rod holders. And it's easier to fish in a kayak seat than standing or sitting on a paddle board.
SUP Yoga
This probably won't apply to most of you, but yoga on a SUP is possible and very fun if you do yoga. But yoga on a kayak is not at all possible.
Rapids
Kayaks are a way better choice for paddling rapids, whereas paddle boards aren't necessarily designed for them. While it is possible to paddle rapids on an SUP, you'll usually find professional riders doing it more often than begginer or intermediate riders. It's also much safer going through rapids sitting in a kayak than on a paddleboard.
My Opinion | What Do I Enjoy More
So I have both, and if you want to know my personal opinion, I enjoy stand up paddle boarding more simply because I think it's more fun. There's something about floating on water while standing up that I really enjoy and many people also feel the same.
However, some of my friends who've tried paddle boarding say trying to balance srtanding is actually stressful and takes the fun out of it since they're only worried of falling.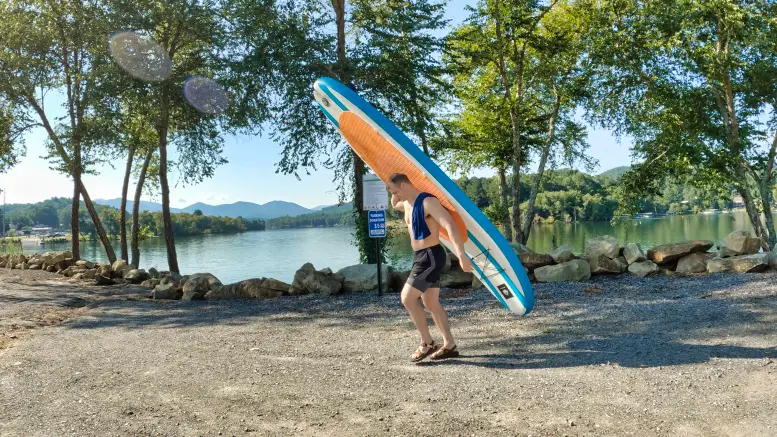 Summary | Kayak or SUP Comparing & Contrasting
Those are the 6 differences between choosing a Kayak or SUP. I hope this article helped in any way. Thank you so much for reading. If you decide to get an inflatable SUP, see our top pick for under $300 here.
If you're looking for over-ear headphones, see our top picks here.
See the top made-in-USA sunglasses here.
Need a modern outdoor coffee table? See the top picks here.
Need an alarm clock? See the top choices here.