Being one of few men that sometimes do yoga on my SUP, it's an honor. Now, what type of SUP board for yoga is a better choice, inflatable, or hardboard?
For a variety of reasons, an inflatable standup paddle board (SUP) is a much better option for yoga than a hard SUP board. 
The 3 Reasons An Inflatable SUP Board Is Better For Yoga
1. Doesn't hurt as much if you fall
Even though an inflatable paddleboard is impressively sturdy when inflated, the impact hurts much less if you fall on it due to the hollow build.
2. Stability
Stability is possibly the most important attribute of yoga on a standup paddle board. In general, inflatable paddle boards are more stable than hard boards. Especially when filled up to the recommended PSI.
3. Softer Surface
The softer surface of an inflatable paddle board makes many yoga positions more comfortable than a harder surface.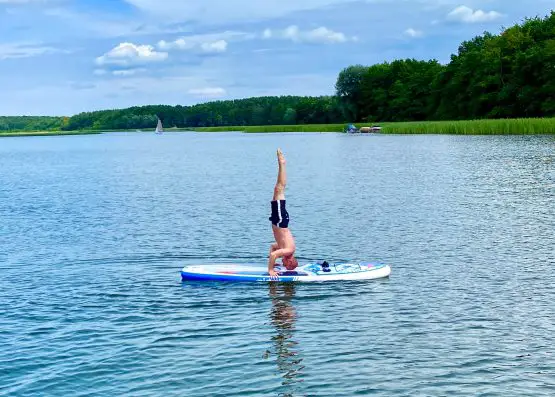 Summary | Inflatable or Hard Board For SUP Yoga?
Those are 3 reasons why an inflatable SUP is a much better choice than a hardboard. Thank you so much for reading! If you want to see the full review of my inflatable SUP, see it here.
If you're looking for over-ear headphones, see our top picks here.
See the top made-in-USA sunglasses here.
Need a modern outdoor coffee table? See the top picks here.
Need an alarm clock? See the top choices here.