Amicalola Falls State Park hosts the largest waterfall in Georgia, various trails, Parking near the waterfall, and a massive 829 Acres of land. The waterfall is 729 feet tall and can be spotted from far away.
While many people choose to park near the waterfalls parking lot and walk down the stairs, there are also plenty of scenic trails in the area. The three we chose to hike are creek trail, Base of Falls Trail, and West Ridge Falls Trail.
Video Exploring Amicalola Falls & Trails
As you can see in the video below, Amicalola Falls State Park has different trails that you can take leading to the waterfall. Along the way, you'll find many scenic sites and landmarks.
Types Of Trails & What To Expect
Creek Trail
The entrance to Creek Trail is located in the parking lot across from the visitors center. It's much less populated than the Base of Falls trail and hosts Tony's Overlook and Mini castle. Along with its moderately hilly trek, it's also a gorgeous hike amid autumn. Creek trail ends at the pond entrance of Base of Falls trail.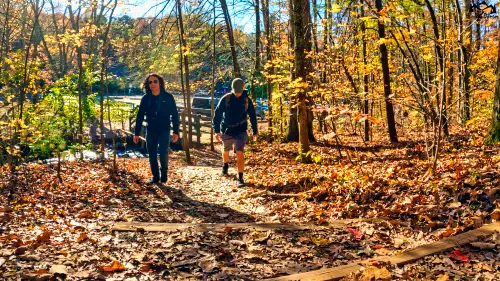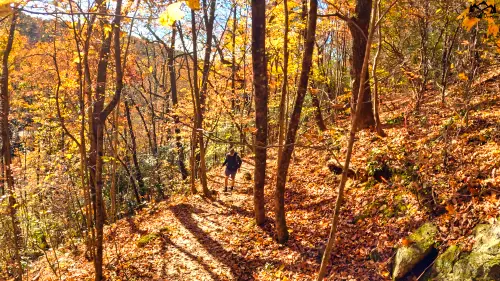 Base Of Falls Trail
Base of Falls trail in Amicalola State Park begins near the pond next to a parking lot. Unlike Creek Trail, it's paved with rubber tires making it an easier than average hike. The rubber path turns to a staircase leading to Amicalola Falls towards the end. This path hosts Hagrid's Tree, Middle Creek Connection, Rock Hammock, and Boulder Falls.
West Ridge Falls Trail
West Ridge Falls Trail consists of dirt paths, an incredibly scenic rubber path, and a massive staircase known as West Ridge Staircase. The staircase leads to the closest parking lot for the waterfall. At the top of the staircase, you'll also find Amicalola Overlook. Finally, at the bottom of West Ridge staircase is Amicalola Falls.
9 Landmarks On The The Trails Leading To Amicalola Falls
1. Landmark – Tony's Overlook
Tony's overlook is a medium-sized ledge on Creek Trail.
2. Landmark – Mini Castle
You'll easily spot Mini Castle since it's clearly visible from the trail. As it says in the name, it looks a lot like a mini castle. We're unsure of its origin or historical meaning.
3. Landmark – Hagrid's Tree
At the beginning of Base of Falls Trail, you'll notice the enormous Hagrid's Tree on the right. It's one of the largest trees you'll find in Georgia.
4. Landmark – Middle Creek Connection
Located on the opposite side of the creek from Base of Falls Trail, Middle Creek Connection is a secluded peninsula with a mini waterfall. It's pretty hard to get to since there isn't necessarily a path.
5. Landmark – Rock Hammock
Unlike the previous landmark, Rock Hammock is a bit easier to locate. It's basically a massive rock next to a mini waterfall and serene location.
6. Landmark – Boulder Falls
Boulder falls is located right before the paved rubber path turns into a staircase. You won't miss this mini waterfall mixed with sizable boulders.
7. Landmark – Flips Truck
On the hill alongside West Ridge Falls Trail, you'll find a mysterious truck with the words imprinted on the back "FLIPS."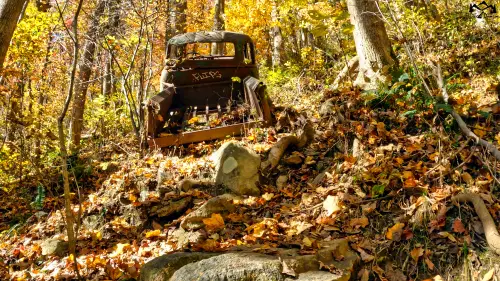 8. Landmark – Amicalola Overlook
Amicalola overlook sits at the very top of Amicalola Falls. Depending on where you're coming from, you'll find it near the waterfall's closest parking deck or at the top of the West Ridge staircase.
9. Landmark – Amicalola Falls
Amicalola Falls is the largest waterfall in Georgia and indeed a spectacular site. Pictures and video don't give this immaculate waterfall justice.
My Final Thoughts On Hiking To Amicalola Falls
Overall, hiking to Amicalola Falls from Creek Trail, Base of Falls Trail, and returning on West Ridge Trail was an incredible experience. The waterfall itself is one of the most glorious sites in Georgia.
Each trail is fun in its own way since Creek Trail is primarily peaceful with dirt paths, Base of Falls has the most notable landmarks but is highly populated, and West Ridge mostly hugs an elegant ridge.
But if you want to go straight to the waterfall, Amicalola Falls provides that option with close parking.