If you're looking for an extremely versatile kayak carrier for your cars roof rack, the Field & Stream 5-in-1 is a great choice.
This rack is able to carry 2 separate kayaks sideways, or you can carry a single  kayak, canoe, an oversized dual seat kayak, or an SUP laying down. 
The primary reason I got this rack is that it was one of the more inexpensive options that can carry 2 separate kayaks. It has a weight limit of 75 pounds per boat. Coming with the purchase, you'll get 4 hooked ropes for the front and rear of your boat, 4 adjustable straps to tie the boats body, and two foam blocks to lay a single boat.
Dependability 
For the past year I'm using these roof racks, I took both kayaks for hour trips many times and they held up without any issues. The kayaks remain throughout every road trip I've been on so far. The furthest I trek with both kayaks as of now was a one way two hour trip. As a side note, whether you're carrying kayaks or not, the kayak racks don't make any additional noise. 
Build Quality 
The build quality of this product is a bit complex as it has robust features such as the body, and weak attributes like the foam that's already coming apart on mine. The hooks and straps are both decent but nothing to brag about. However, the mechanics seem well designed and sturdy.  Overall, the build is kind of a mixed bag but the more important attributes such as the tough body and mechanics are up to par. As a side note, installation is very straightforward as is fits just about any standard roof rack. 
How to load a single kayak on a field and stream roof rack
Make sure the center bar is laying down flat. 
Add the foam block horizontally snug to the center of each rack
Put the kayak on top of the car centered with the roof racks. (Upside or right side up)
Strap and tighten the kayaks to both roof racks and cross bar. 
Attach the front hook to the front of your cars hood.
Attach the rear hook to the cars trunk
How to load two separate kayaks on a field and stream roof rack
Adjust both roof racks center bar upwards
Put kayak on sideways (facing out preferred)
Put the strap under crossbar and through rack, and throw to the other side 
Grab other side of strap, place through center stand, latch and tighten 
Repeat steps to secure straps on the other roof rack
Same for the additional kayak
Put the excess straps inside the car, or wrap is somewhere 
Attach the front hook to the front of your cars hood on both kayaks 
Attach the rear hook to the cars trunk on both kayaks 
Compatible boats
1 canoe
1 kayak 
2 kayaks 
1 dual-person kayak 
1 SUP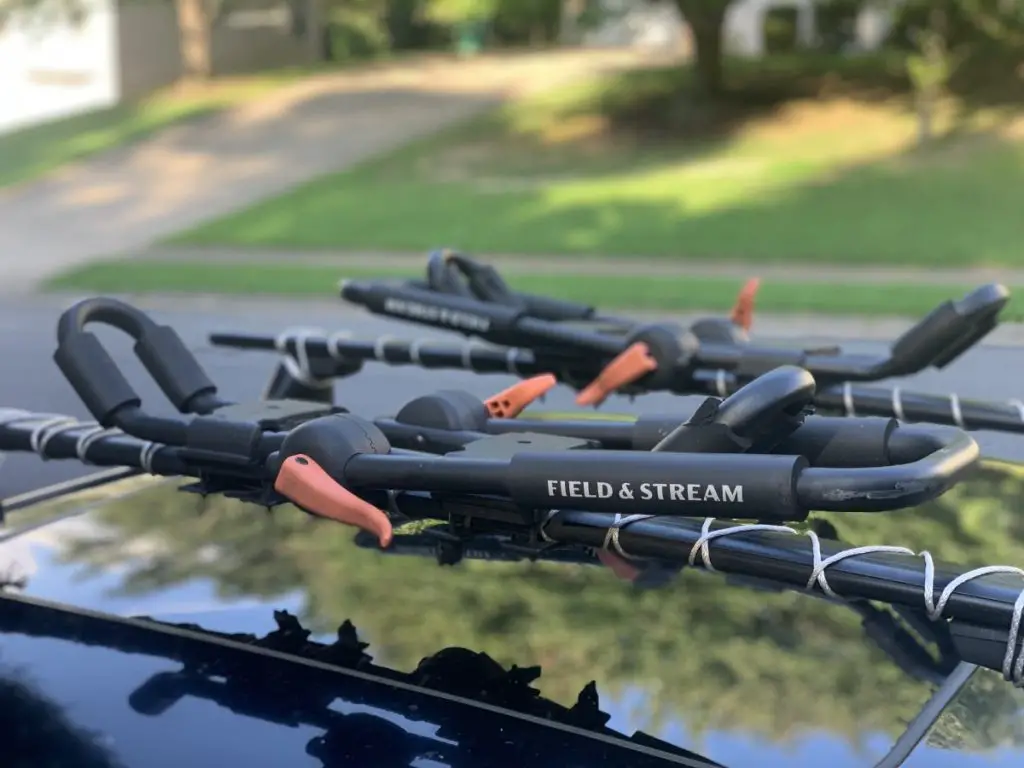 Summary | Kayak Carrier Field & Stream
Overall, the field and stream is a good roof rack at a reasonable price if you want to switch between 1 or 2 kayaks. If you also need a dry bag for your adventures see our comparison here. Thank you for reading!
If you're looking for over-ear headphones, see our top picks here.
See the top made-in-USA sunglasses here.
Need a modern outdoor coffee table? See the top picks here.
Need an alarm clock? See the top choices here.