We hike all the time in many different environments all throughout the southeast. In that time, I went through many types of shoes, but it wasn't till about 6 months ago that I got my current pair, the Merrell Men's Moab 2 Waterproof Mens Hiking Shoes.
And, it was definitely a game changer for me, I fell in love with them right away but I wanted to give it at least half a year putting them through some extreme hikes till I did a review on them. So roughly half a year later, I'm going to run by the 6 why I highly recommend these hiking shoes.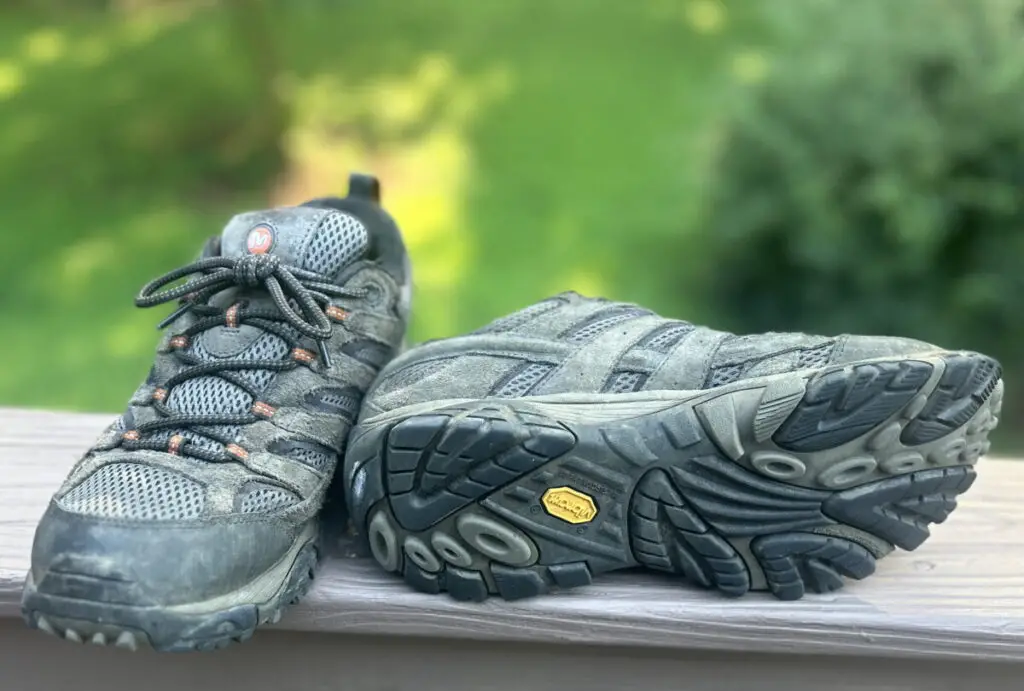 1. Traction
Right away one of the first things I noticed was my drastically enhanced ability to hike on slippery rocky terrain. See, in our hiking videos we generally take split offs paths and leave the main trail frequently where it's much harder to hike.
These shoes, make it so much easier. In all honesty, I probably would've fallen many times over with some of the newer trails we've been doing, if I didn't have these shoes. I got them at the perfect time.  But not just falling, the fact that it's much easier and effortless to traverse in slippery areas makes a huge difference.
2. Waterproof
These shoes are waterproof. In technical terms, the membrane seals out water and lets moisture escape. But in my experience, every time I walk in a puddle, it rains, or near heavy moisture, Not only do my feet never feel a drop, but the shoes never hold on to water and they always seem to dry almost instantly. Unlike the previous shoes I had where I would be annoyingly uncomfortable with wet heavy shoes for the remainder of the day.
3. Durability
These shoes are tough. I've had them for some of the most extreme hikes including all over linville gorge, the 11-mile trek to the forest from the last ice age in mount le Conte, waterfalls of north carolina, mountains of North Georgia, stream trails within canyons, many hikes on and off camera and, yea there a little dirty, but no real signs of wear and tear yet.
They feel, incredibly rugged, you need to feel them for yourself but at the time, also very lightweight. But I have no doubt, that these shoes will last me for years. You'll see them on me for all our hiking videos for years.
4. Comfort and support
These shoes are very comfortable and they feel supportive once you put them on. This is gonna sound dumb, but once my foot enters the shoe, I feel more capable to hike. I think the longest hike these shoes have been was at the Smokies being 11 miles not including any of the split-offs, and at the end of the day, I felt no discomfort in my feet.
Now my legs were sore, but my feet were fine. Now, I will say, if you want ankle support in case of snake bites, or rolling your ankle, you need to look elsewhere, these don't protect you from that. Personally, I just prefer hiking shoes like this, as of now.
Also, even though they're waterproof, the ventilation is actually quite decent. I don't have the feeling of my foot suffocating at all. Now, your feet may be sweaty by the end of the day, but if you're hiking, it's ok.
5. Shock absorption
The shock absorption comes in handy not only for jumps in rough terrain that I encounter relatively often, but it also helps with the overall foot-comfort longevity throughout the day.
6. Affordability
Now price change frequently, but As of right now, on Amazon, these are running for below $60 I believe, and have been for some time now. In my opinion, it's gonna be extremely difficult to find a durable, waterproof, improved traction, comfortable, pair of hiking shoes near that price. In my opinion.
Final Thoughts | Mens Hiking Shoes
So those are the 6 reasons why I love these hiking shoes, the link is in the description below, hopefully, they're still at a low price once you see this video. In case you're looking for a travel mattress, see a comparison of two popular choices here. Thank you for reading, have a blessed day.