An SUP electric air pump for a standup paddle automatically fills air into your sup and is usually charged by either your car's battery port or rechargeable batteries. 
The sereneLife is the sup air compressor that I use. I chose this one because it was one of the more affordable options running around $50 bucks. This particular model is charged via a car battery but they also have another one with batteries. 
Why use an electronic air compressor for SUP
The primary reason why I decided to get an electronic air pump for my SUP is I knew that if I wasted countless minutes manually pumping the board every time I went out, I'll end up not going out as often. I personally found it extremely annoying the one time I tried it manual and by the time I hit the water, my arms were already a little tired. Or maybe I just need to work out more? 
Another reason is time. As it's already hard enough to gather the free time to paddle, an electronic air compressor saves me a bunch of time as it pumps the paddle board much quicker than manually. So rather than deeply dreading the annoyance of sitting there pumping the paddle board when I want to use it, which turns into a lower rate of me using it at all, an electronic air compressor removes those inconveniences.
Reliability & Performance
So far I've had the pump for about 18 months and in that time it's been nothing but dependable. It fills my SUP relatively quickly without any issues. The screens display conveniently shows the psi amount, so I know when my board is ready. However, the preferred psi amount might depend on the board you have, but for me, the roc is best between 12-15psi. It also provides a preset psi auto shut-off feature if you don't want to wait around checking on the display. 
Build quality 
The build quality of the serenelife is decent. It's not bad but nothing great. I keep mine stored in the paddle board bag and nothing has fallen apart or come loose. The hose itself is 3.3 feet long and detachable. 
Now I was reading the reviews on Amazon and some people were saying it stopped working after a few uses. I've probably used it around 30 times in the past 18 months and still haven't had any issues at all. I also read that some people had trouble keeping the hose hooked up. But with me, no issues there either. 
How To Use SereneLife To electronically Inflate Paddle Board (Via Car Charger)
Roll out deflated paddle board flat
Turn Car On
Plug SereneLife plug into the car charging port
open paddle board valve
Plug and twist lock SereneLife hose into paddle board valve
Click on SereneLife power button
Hit the power button once to turn off once SUP reaches the preffered PSI (SereneLife display shows PSI)
Twist off hose attached to the board and remove from the car battery charger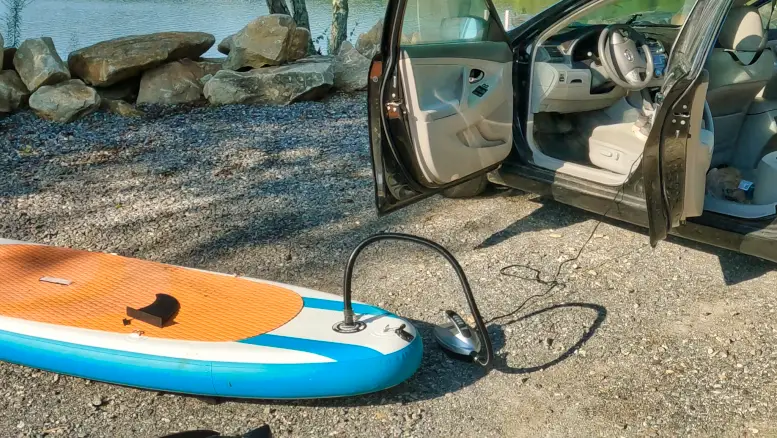 Summary | SUP Electric Air Pump
Overall, this paddle board electric air compressor is, in my experience, a reliable option for an affordable price. In case you're looking for an inexpensive SUP, see our top choice under $300 here.
If you're looking for over-ear headphones, see our top picks here.
See the top made-in-USA sunglasses here.
Need a modern outdoor coffee table? See the top picks here.
Need an alarm clock? See the top choices here.