Located alongside the Little River, Olde Rope Mill Park in Woodstock, Georgia, is a hidden gem for outdoor enthusiasts, especially those who love biking.
With its well-maintained flow trails and stunning natural surroundings, this park offers 5 different bike trails all with different qualities.
So whether you're a beginner or a seasoned rider, the bike trails at Olde Rope Mill Park cater to all skill levels, making it the perfect destination for both recreational and advanced bikers. As a matter of fact, it was here where I got my mountain biking start, as well.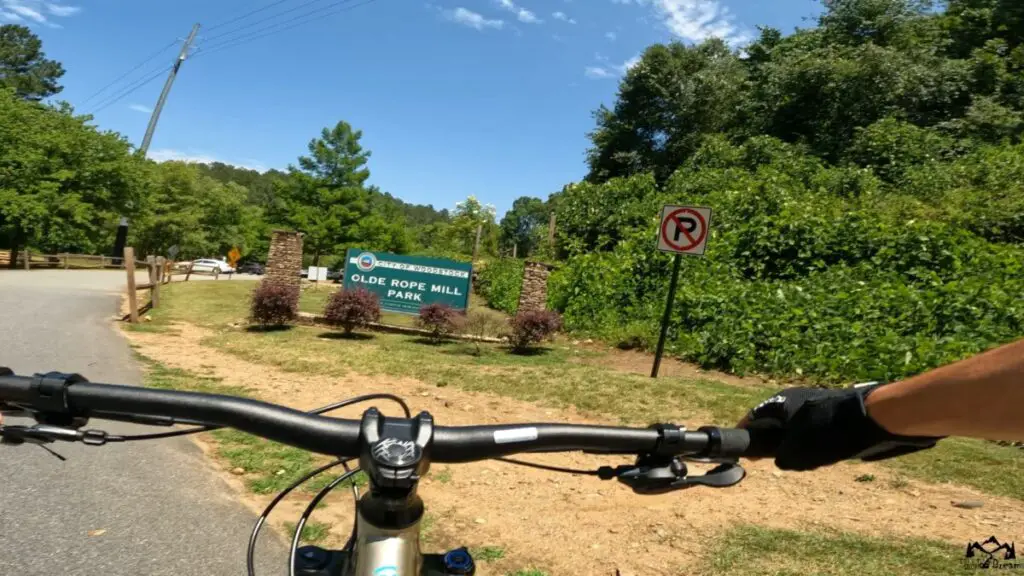 There Are 4 Prominent Mountain Biking Trails at Olde Rope Mill
Turbine
The turbine is a one-way intermediate trail with advanced features. Although it's only 1 mile, it's possibly the most fun since it's predominantly downhill, has a lot of fun jumps, and sharp turns or berms. It also has a neat optional rock drop towards the end. The trailhead is located in the same area as the next trail I'm gonna talk about, the Raceway.
Raceway
The Raceway is a fun trail with many ups and downs. It's rated as a beginner at 1.8 miles. But at a split off within the path is the optional bonus trail called powerhouse doubling the distance and bumping up the difficulty to intermediate. There are a few technically advanced features, as well. But if you're a beginner, I recommend staying on the raceway.
Explorer
And back across the bridge over a little river, are the other 2 trails that are actually located in the parking lot. The explorer trail is a pleasant stretch through the forest that's also well-maintained. It offers 3 separate loops depending on how much you want to ride, or your skill level. The first loop is 0.5 miles, great for beginners, loop 2 adds 1.5 miles, I recommend this for intermediate riders, and loop 3 adds another mile. This trail is a lot of fun and the most memorable part to me was the narrow paths hugging moderately steep ridges. Also, a few areas are alongside the river, which is nice.
Avalanche
Lastly, is the most difficult of them all, the Avalanche trail. Also, providing 3 separate loops, this trail has many ups, and downs, narrow turns, and tricky rock bridges across a stream which I actually fell at. Well, to be honest, I fell a few times here, also, the expert boulder feature is cool. In total, all three loops are roughly 6.25 miles. Most of it is in nature but parts are alongside a neighborhood. It gives you the best work out of any trail at the park and plenty of downhill action.
Final Thoughts | Mountain Biking Metro Atlanta's Olde Rope Mill Park
Overall, the Olde Rope Mill Park here in metro Atlanta provides some incredibly maintained flow trails, in the area.
However, not only bike trails, but the park also provides kayaking which leads to a waterfall, and a neat hiking trail alongside the Olde Rope Mill ruins, graffiti bridge, and a mini beach. I highly recommend a trip here.
In case you're looking for a travel mattress, see a comparison of two popular choices here. Thank you for reading, have a blessed day.