I'm going to do a full review on the 5.11 Tactical Rush 12, which is the backpack that I use for the adventures and why I think it's a very reliable choice for hiking, hunting, grab and go, and they also designed it for active duty.
Basic Features & Layout – 5.11 RUSH12 Tactical Military
While you can get the 5.11 Tactical RUSH12 in a few different sizes, I use the 24 liter, which is the smaller size since that's all I need for the day trips I take. I also like the more compact size so I can run up hills to get certain shots without issues.
On the flip side, you might prefer a larger size if you take extended trips or prefer bringing more stuff. But, especially with the 16 diverse compartments, you'll be surprised by how much this 24 liter can carry.
It fits my drone's massive water bottle in the main compartment alone on all of our trips. You'll also find a few mesh pockets in the main case for additional organization. On top of that, the smaller compartments provide many ways to organize essential items.
You'll also appreciate the wide variety of molle attachments points, and it's compatible with web pouches. However, you won't find any molle within the pack. Now, if you don't like it in the color black, you can get it in other colors, as well.
A few additional features worth mentioning are the loop panels for attachments, 60-ounce hydration port, a reasonable weight of 2.6 pounds, side compression straps, and the adjustable sternum strap that's used as the third point of contact to ease the carrying strain.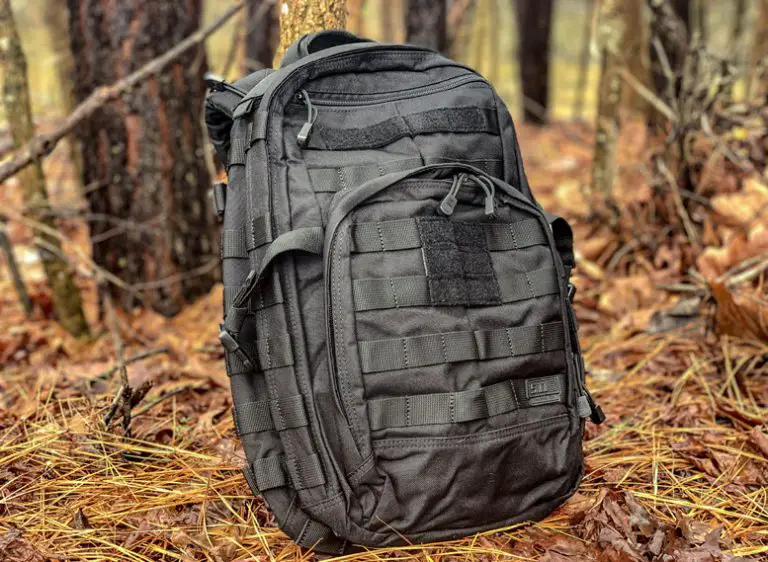 Durability – 5.11 RUSH12 Tactical Military
Made with 1050D Nylon, this backpack is abnormally durable. It's arguably the most rigid backpack you can get for the price.
That being said, its robust build quality and longevity were one of the primary reasons I decided to get the 5.11 Tactical Rush 12. My main goal at the time was to make one purchase on a reliable pack that I could possibly use for the rest of my life rather than buying a different mediocre bag every four years.
Although I've only been using this pack for a little less than a year, the moment you get your hands on this material, you will know that this backpack will likely last you a lifetime. Both the inside and out provide some of the toughest construction I've ever felt from a backpack in my entire life.
Another positive attribute this pack provides that's usually overlooked is the backside durability. While some might prefer a softer meshed back for comfort, this pack's backside and straps are pretty durable. Regardless of how much you abuse it, neither the straps nor pack will tear.
Not only is the material robust, but the self-repairing YKK zippers are nearly just as impressive. Even though I've only had it for 11 months, it's been through a lot in that time. And one of the things it's been through was a significant amount of rain from point-blank range at the top of a mountain, which leads me to the next reason why I love this backpack.
Water Resistance – 5.11 RUSH12 Tactical Military
The third reason I love the 5.11 Tactical Rush 12 is it provides decent water resistance.
When I was stuck in heavy rain in the mountain, I was pleased to discover the inside was untouched. However, the bottom of the pack has holes where water can get through. You should be in good shape as long as you don't throw it in water.
Cons
No water bottle side pouch
Only 3 points of contact rather than 4
Tough backside material might make you sweat more
Summary – 5.11 RUSH12 Tactical Military
Overall, the three main reasons I love the 5.11 Tactical Rush 12 are its practical layout, remarkable durability, and water resistance. If you want the arguably toughest possible bag for the money, I highly recommend it!
If you're looking for over-ear headphones, see our top picks here.
See the top made-in-USA sunglasses here.
Need a modern outdoor coffee table? See the top picks here.
Need an alarm clock? See the top choices here.