Located in Lumpkin County, Desoto Falls is an easy hike to two north Georgia waterfalls.
The trail entrance gives you a sign to either go left or right. Left takes you to lower falls (smaller waterfall) after 0.25 mile.
Right, takes you to The primary Desoto Falls waterfall (upper falls) after 0.75 mile.
The waterfalls are on Frogtown Creek. Hence, you walk alongside a fair portion of the trail next to the creek.
Video Exploring Desoto Falls Trail To Lower Falls & Upper Falls
Types Of Trails & What To Expect
Lower Falls Trail (.25 Mile)
The trail to lower falls is only 0.25 of a mile. It hugs a ridge with a relatively narrow path. Unlike the trail to upper falls, this hike is inclined and has a pleasant mountainous background. It's also mostly dirt with wooden steps at times.
Upper Falls Trail (.75 Mile)
The trail to upper falls is moderate, with a primarily flat dirt path. It's also quick, being less than a mile to the waterfall. A lot of the trail is next to Frog Creek. Being in the Chattahoochee National Forest, the path is mostly surrounded by many trees. It's an easy and enjoyable hike for the family.
Chattahoochee National Forest
Desoto Falls is within the Chattahoochee National Forest within Lumpkin County.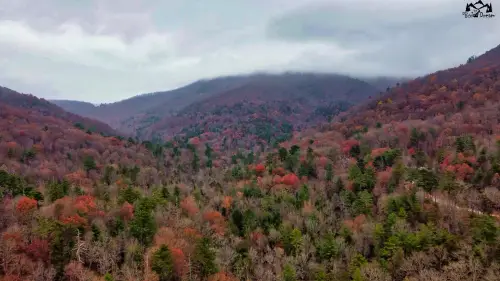 Desoto Falls Campgrounds
Before you reach the trail, you'll see campgrounds, grills, picnic tables, and canopies along the way. Considering it's on the other side of the creek from the trail, it's a peaceful area to grill after the easy trek.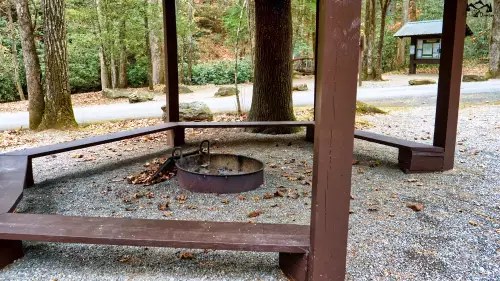 Trail Entrance sign
After crossing the bridge, the sign points the direction to lower falls and upper falls.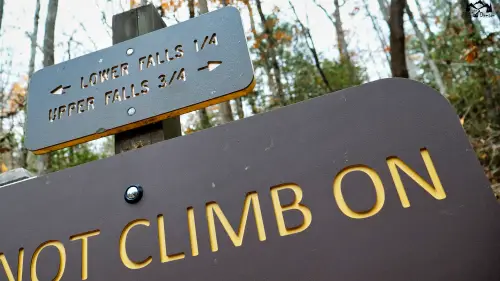 6 Landmarks On Desoto Falls Trail
1. Landmark – Lower Falls
Lower falls is a serene waterfall that's not very large but unique enough for a well-known name. In addition to the peaceful site, the trail leading up to lower falls is both simple and quite scenic.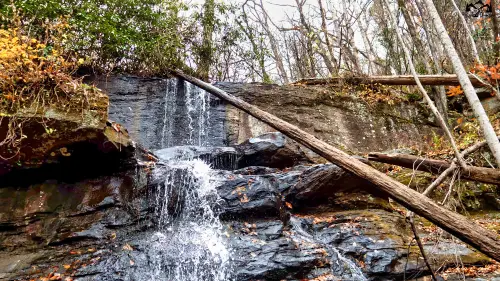 2. Landmark – Stone Wall
Stone wall seems to be a manufactured construction of many large rocks caged against the side trail.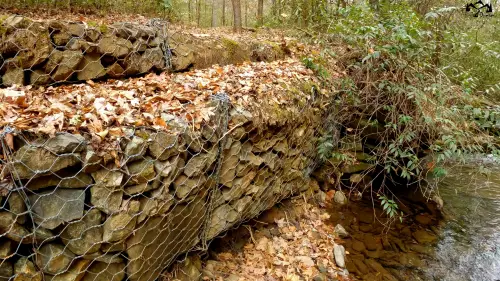 3. Landmark – Knotted Tree
The knotted tree is located many yards from the main trail but is still visible. Along with the highly unusual tree with various bumps on the bottom and spikey limbs, it's also next to a quiet opening near the creek.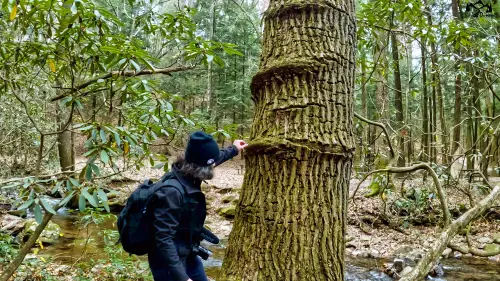 4. Landmark – Desoto's Brook
Here is a pleasant area away from the trail that makes a great break or picnic time. It has a scenic site with a log crossing the lake on a boulder, a tree with a root cave above the water, and an area to sit near the creek.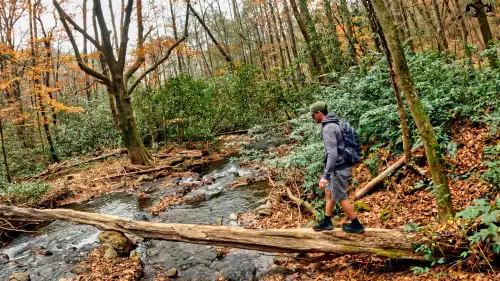 5. Landmark – Gunter's Overlook
Gunters overlook is located just shy of the falls. It's one of the fewareas you can see clear across the right side of the trail. The ledge is a sizable drop.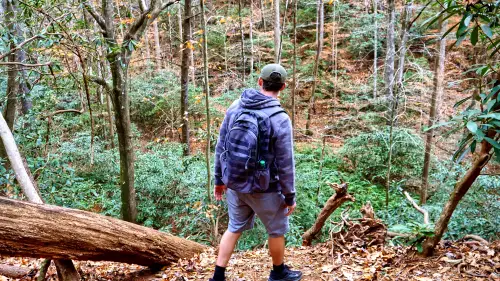 6. Landmark – Upper Falls (Largest Waterfall In Desoto Falls)
Upper Falls is the primary waterfall of Desoto Falls. It's very large and consists of three separate layers. In other words, three different waterfalls stacked on top of each other. In addition to the splendid site, You'll also appreciate the benches in the area.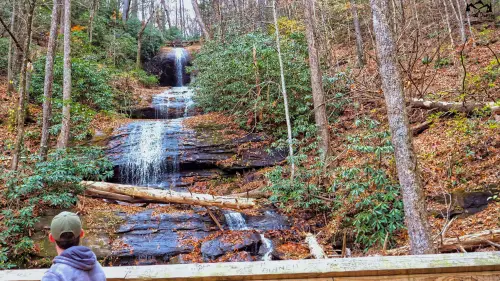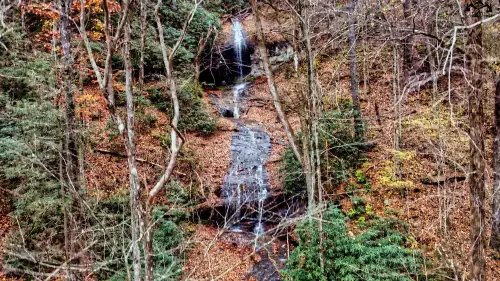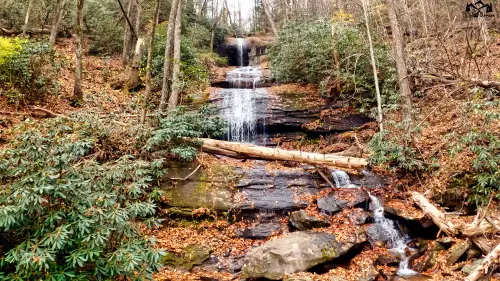 My Final Thoughts On Hiking Desoto Falls In The Chattahoochee National Forest
Overall, Desoto Falls is a fantastic day trip if you want to see two different waterfalls after a peaceful 1-mile hike. Even better, it provides campsite, grills, and picnic tables, as well. In addition, it's not too populated compared to many North Georgia waterfalls, adding to the overall relaxing vibe.
However, if you prefer a more strenuous waterfall hike, Raven Cliff Falls might be a better option since it's 4.9 miles round trip with more versatile paths along the way.