Looking for a family camping tent? Here's our story…
My wife and I went on many camping trips this past year. Some of them we even filmed. So while I loved the tight fit of my single/dual tent, she prefers more room. But not only was she thinking about us, but also camping trips with our future family, and began looking for a full family camping tent.
So, as they say, happy wife happy life, I went along with her idea to not only get a much larger family tent but one of the highest-quality and spacious cabin tents, the 8-person L.L.Bean Acadia.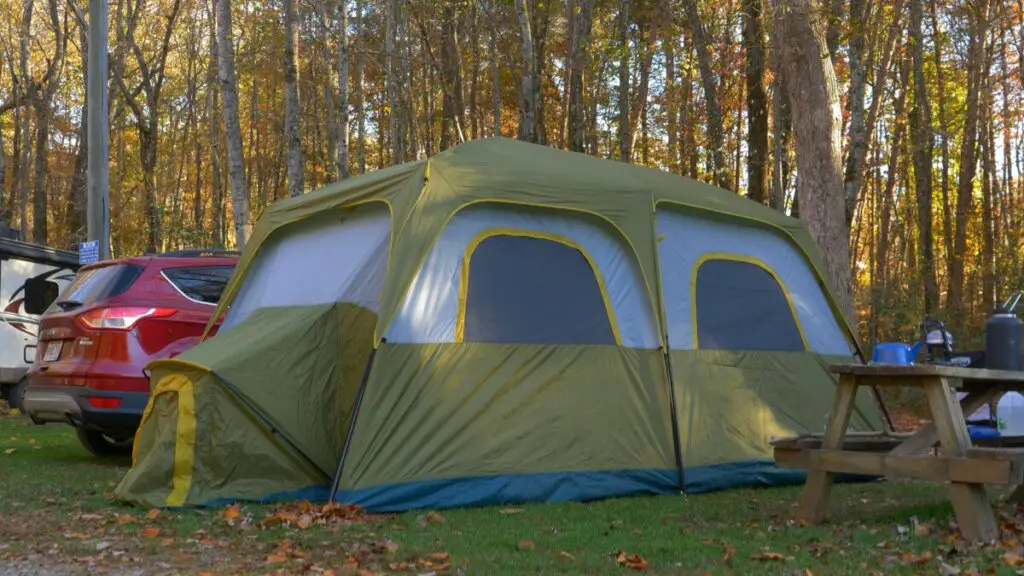 Size & Portability
Right off the bat, this tent is massive. It's almost like a small house with 126 square feet, 14 feet long, 9 feet wide, and a height of 6 feet 10 inches. But when it's packed away, not only is it easily portable with the handles and wheels, but it's only 37 pounds.
Qualities
Much like a real cabin, the door is sturdy because within are poles, and once you close it it remains closed with magnets. Inside at the top middle is an area where you could hang your lantern, and it comes with many mesh zippable windows.
There are also built-in packets on the walls to keep things organized, and that tail end is actually a dog house. But we don't have a dog, so on our last trip my wife's idea was to use it for dirty laundry.
Durability
But one of the main selling points for this tent for me was its durability. I needed to know that this relatively high-dollar tent was going to last my family a very very long time where it would be worth it. The LL. Beam is made of 75-denier polyester with 1500 mm PU waterproof coating, extremely tough fiberglass roof poles, and steel legs.
When you feel this material, and steel legs, you'll know it's built to last. And when it comes to the fiberglass roof poles, I actually used to build trampolines for a company that used fiberglass, and it's basically one of the most durable things you could use that's also flexible and resistant to corrosion.
On our trips with it so far, this family camping tent has been nothing but amazing to us without any signs of wear and tear yet.
How to Set Up The L.L.Bean Acadia 8-Person Cabin Tent
So while all of its qualities and massive size are great, I know what you're thinking, you're probably intimidated by the setup process of this massive family camping tent or essential mini cabin. I was too until I finished putting it together the first time. But after the first time, I'm telling you, it's so much easier than it looks and takes me a rough average of 20 minutes putting it up, and a little less taking it down.
So first I'm going to show you the setup process, and after the tear down putting it away process. And unfortunately, the instructions I received were a little bit too vague for me. So this is the best and easiest way for me.
Set up
Folding everything out but place the main part of the tent where you want it
Attach all of the poles
Insert all of the roof poles matched with their color and attach to the corner hinges accordingly
Attach the steel legs. This is the longest part and best start with the hinges and work your way down to the foundation where you insert the metal pin into the bottom leg.
At this point, the tent should be standing, now add the dog door and insert the bottom of each pole into the metal pin.
Add the red pole horizontally above the doggy door and extend the pole to fit.
Insert the door poles (This is very annoying the first time you do it)
Add the rainfly, match it accordingly with the door, and hook the bottom accordingly. this part is easier with two people. (Especially if you're short like me)
Add the nails to the base and wind ropes
To be honest, I haven't stayed in a windy place yet, like at the top of a mountain, so I haven't even bothered yet with the wind ropes. The first time I did this, it took about an hour, Believe me, it gets significantly easier quickly.
Tear Down
Remove the nails to the base and wind ropes
Remove the rainfly by unhooking the bottom foundation areas.
Remove all of the secondary poles like the doggy house, door poles, and red side pole
One by one remove each steel leg. For me it's bestarting with the bottom, but sometimes some of the poles are easier removing from the top corner hinge first.
Remove the roof fiberglass poles starting with the corner hinges
Fold up every pole and put it back in the bag where it started
Fold as tightly as possible the rainfly and main tent as close to the bag shape as possible. Place everything in the bag. Zip, you're done.
Summary | L.L.Bean Acadia Family Camping Tent
So overall, considering this family camping tent's incredible qualities size, and the fact that we're possibly gonna use it for most of our lives comfortably fitting our future kids, I think the high dollar amount of the L.L.Bean Acadia family camping tent is worth the high dollar amount.
But in case you're also in need of a very affordable tent for 1 or 2 people, see the other tent I use on solo adventures here. Thank you for reading, have a blessed day.